White House press secretary Karine Jean-Pierre, known for reading scripted responses during daily press briefings, had her statements mixed up on Monday before catching and correcting herself.
A reporter asked Jean-Pierre about New Hampshire Sen. Jean Shaheen, a Democrat who did not attend a ball that night because President Biden supported a proposal to put South Carolina ahead of New Hampshire in the primary schedule.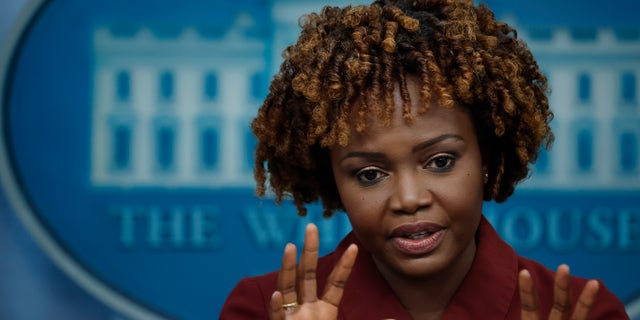 The move, the reporter said, had Shaheen worried it would leave New Hampshire vulnerable during the primaries.
KARINE JEAN-PIERRE LAUGHED FOR ALLEGING 'THERE WAS SUBSTITUTION' IN GA ELECTION: 'MUCH CONSPIRACY THEORY?'
Jean-Pierre told the reporter that the White House respects the Hatch Act, which was passed in 1939 to limit political activities involving federal employees.
"But looking back is the ultimate irony," she said. "You know, the 2020 election was proven by the home country of the Trump administration … oops. Sorry. I think I got ahead of myself here."
CLICK HERE TO GET THE FOX NEWS APP
Jean-Pierre then went on to say that the White House is taking the Hatch Act very seriously, adding that she should be careful what she says as the 2024 election approaches.