Gun-wielding vandals are suspected of causing a major power outage in a North Carolina county that authorities say left tens of thousands of customers in the dark amid freezing temperatures.
Evidence of sabotage was found at two key electrical substations after the massive blackout Saturday night, prompting the Moore County Sheriff's Office to investigate the incident as a "criminal incident" and call in the FBI to assist in the investigation.
A state of emergency was declared in Moore County on Sunday, and a statewide curfew was imposed from 6 p.m. 21.00 to 05.00 Sunday evening. Moore County Sheriff Ronnie Fields told ABC News that the curfew will be extended through Monday evening.
Jeff Brooks, spokesman for Duke Energy, the local public utility, said the two electrical substations were severely damaged in the attacks and much of the equipment needs to be replaced. He said it could be until Thursday when power is fully restored.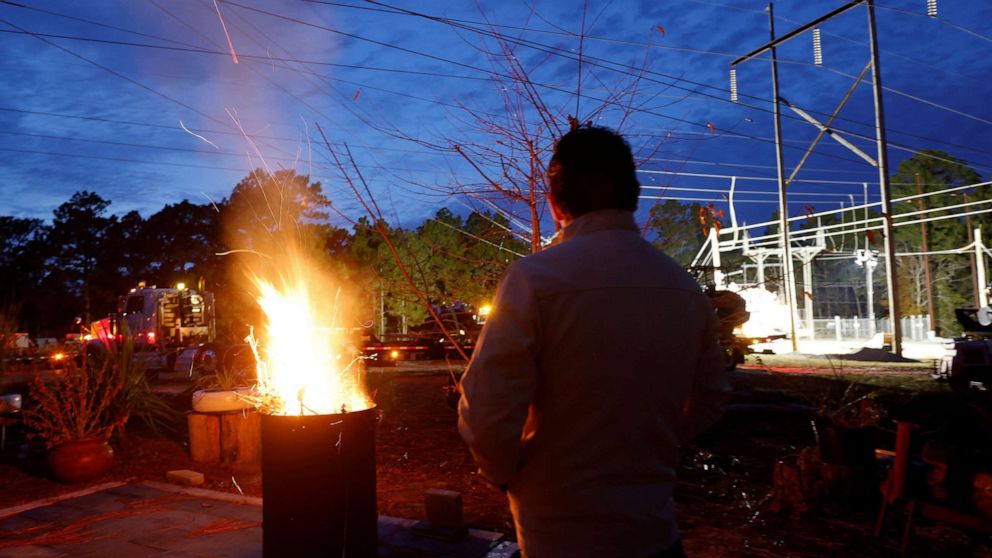 At least 35,430 utility customers woke up for a second day Monday without power, officials said.
'It's been a nightmare'
Schools throughout the county have been canceled indefinitely and a shelter was opened in Carthage, a central Moore County city, for residents suffering from the disruption, officials said.
The outages began around 7 p.m. Saturday, and thousands of Duke Energy customers remained without electricity Sunday after enduring freezing temperatures overnight.
Fields said at a news conference Sunday that the perpetrator or perpetrators of the sabotage "knew exactly what they were doing." He said several shots were fired at each of the damaged substations and a gate was opened at one of the properties to reach the target.
"We faced something (Saturday) night in Moore County that we've never faced before, but we'll get through it," Fields said. "I can promise the perpetrators out there, we will find you."
Fields added, "this was purposeful. It was not accidental."
No arrests have been announced. Fields declined to comment on a possible motive, but said the investigation has yet to uncover evidence linking the vandalism to a Downtown Divas drag show in Southern Pines that has sparked community protests. The drag show was scheduled for Saturday night and was canceled due to the blackout.
Fields told ABC News on Monday that law enforcement throughout the county has handled a number of emergency calls in the past 48 hours, including a pair of robberies, one at a gun store.
"It's been a nightmare," Fields said, adding that the FBI, Homeland Security, ATF and a number of federal agencies are involved in this investigation.
Fields said this was an intentional act and if anyone dies as a result of the blackout, the suspect or suspects could be charged with murder.
The sheriff called the attacks an "eye-opener" and said he has spoken with North Carolina Gov. Roy Cooper and state senators and representatives about beefing up security around the county's infrastructure.
White House briefed
Homeland Security Secretary Alejandro Mayorkas was briefed on the outages, and a spokesman said the department is coordinating with the FBI. The DHS infrastructure security agency CISA is also providing resources to Duke Energy, which is working to restore power.
"DHS will continue to share information with the FBI and state and local authorities as the investigation develops. CISA management and regional teams have offered support to Duke Energy as they work to restore service," a DHS spokesperson said Monday .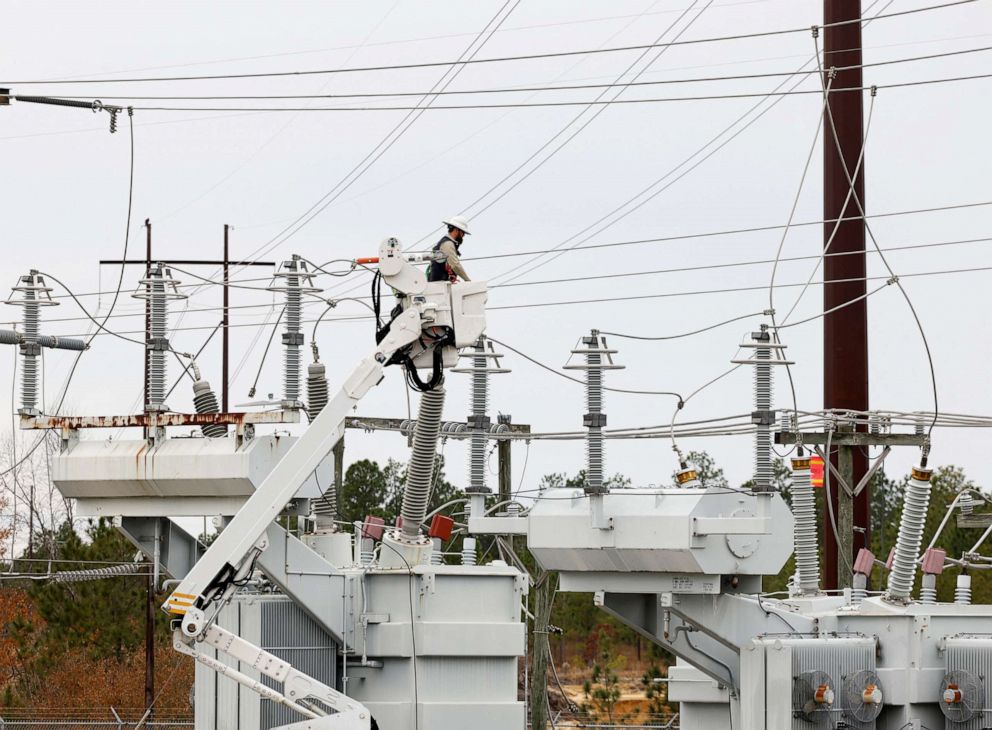 National Security Council spokesman John Kirby said Monday that the White House is closely monitoring the incident, adding that strengthening infrastructure against external threats is a high priority.
"Obviously we're going to let that investigation play out. I think we've heard the president talk about this many times. He's made critical infrastructure security and the resiliency of that infrastructure, whether it's from natural threats or man-made threats, a priority from the very beginning," Kirby said. "We still have a long way to go. I think the president will be the first to admit that.
'Multi-day restoration'
Brooks said utility crews are working "around the clock" to restore power, but said "we're looking at a pretty sophisticated repair with some pretty big equipment." Several Moore County law enforcement agencies provided security while crews worked to repair the damage.
"We want citizens to be prepared that this will be a multi-day restoration for most customers," Brooks said.
Mike Cameron, Southern Pines' assistant city manager and fire chief, told the Raleigh News and Observer that multiple vehicle accidents were blamed for the outage, including a multi-car accident that injured several people at an intersection in Southern Pines.
"The car wreck was complete because the stop lights were off," Cameron told the News and Observer.
Moore Regional Hospital in Pinehurst, North Carolina, also lost power and was forced to switch to its backup generator, officials said.
Govt. Cooper said in one Twitter posts that he has spoken with Duke Energy and state law enforcement officials about the crisis.
"An attack like this on critical infrastructure is a serious, intentional crime and I expect state and federal authorities to thoroughly investigate and bring those responsible to justice," Cooper tweeted.