AVONDALE, Ariz. – It was a chaotic scene in the West Valley on Saturday that left one man dead and others injured. At approximately 1:00 p.m. on November 19, police responded to reports of a shooting and multi-vehicle collision in the area of Avondale Boulevard and McDowell Road.
Lauren Evans of the Avondale Police Department says officers discovered the suspect had fired at two vehicles on Interstate 10.
Evans says after exiting the freeway, the suspect continued to shoot at multiple vehicles, causing several collisions in the area of ​​Avondale Blvd, between I-10 and Encanto Blvd.
The suspect later collided with a motorcyclist and attempted to flee the area on foot, but was apprehended by officers at the time.
Evans says there are six victims. Three were shot, one of whom is dead. The other two were listed in critical but stable condition.
Two victims suffered minor injuries from the vehicle impact and the motorcyclist is in critical but stable condition.
Evans confirmed that "there are no other suspects outstanding."
Police say the suspect's motive is unknown at this time.
During the investigation, roads were closed at Avondale Blvd. between Interstate 10 and Encanto Blvd., as well as McDowell Rd., between 107th and 119th Ave. They have reopened.
No names have been released in this case.
Avondale crime scene near Avondale and Encanto Blvds. on 19 November 2022.
More Arizona headlines: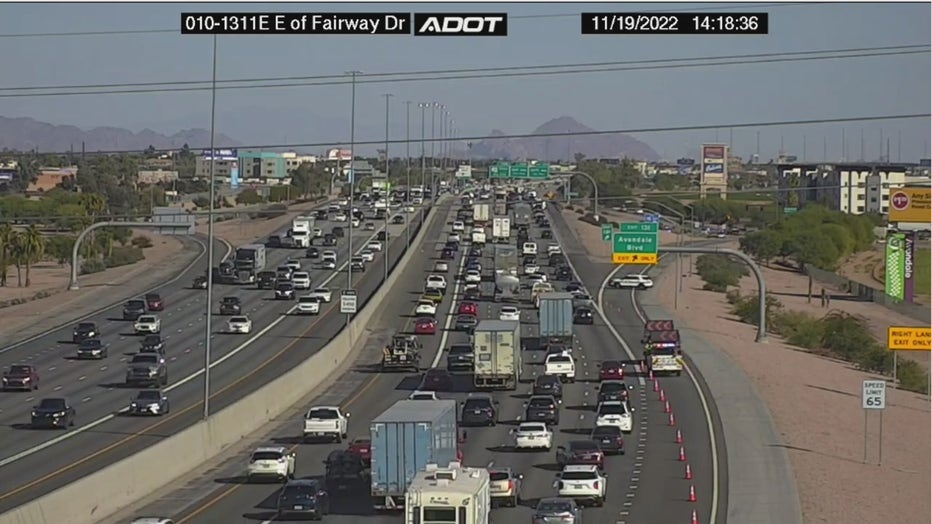 The I-10 exit at Avondale Boulevard has been closed for the investigation.